---
ScanWiz can detect skew and automatically straighten pages of text. It works by looking at the white space between lines of text and calculating the angle of skew. As such this function may not work on documents that contain a lot of images or columns that do not line up.
Right click on the thumbnail view and select Auto Deskew Document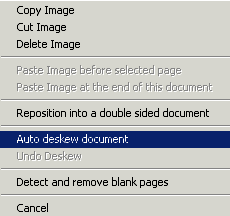 If the results are not satisfactory then you can remove this by clicking on Undo Deskew.