---
Scanning without showing your scanners dialog
Note: Not all scanners will support this option.
If your manufacturers scan settings dialog is too complicated or does not remember the settings between each scan then you don't have to use it!
Just set your desired scanning settings within ScanWiz and scan without using the dialog.
Press the 'Using Scanners Dialog' button so it displays as 'No Dialog' as shown below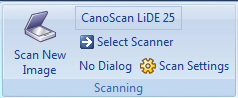 Press the Scan Settings button as shown above and the scanning settings dialog will appear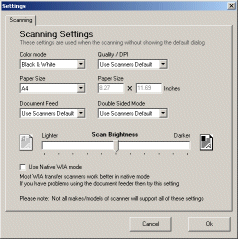 You can choose your default paper size, document feed and duplex ect.
The scan brightness control allows you to adjust the density of the scan.
Click OK to close the dialog and ScanWiz will save the settings for you.
Now you can scan quickly and easily without the unnecessary extra steps!
Also did you know you can press F5 on the keyboard to scan and F6 to save.