Softi Scan to PDF
Scan to PDF does one function and does that extremely well. It is well designed, easy to use and makes scanning your paper documents to PDF a breeze !
The resulting files have amazing quality and are highly compressed so even a 20 page PDF will be quick and easy to email.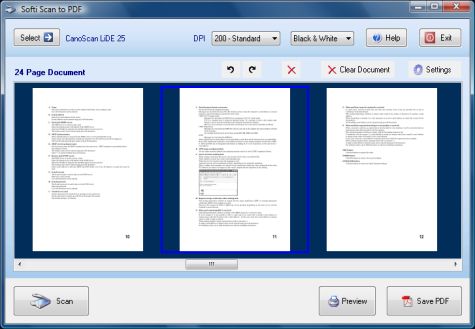 Features
Scan single and multi page high quality documents

Build multi page documents even with a flatbed scanner

Uses G4 TIFF compression which allows a typical page to be under 50kb

Interfaces seamlessly with nearly all Twain compatible scanners
If you need more features then have a look at ScanWiz

System Requirements
Microsoft Operating Systems

Windows XP, Vista and 7
Windows 8 Desktop (Not Metro/RT)
Server 2003/2008 (Terminal Server and Citrix are not supported )
Windows 10 *(see note below)



Recommended Minimum Specification:

Pentium Processor
1GB Memory (RAM)
10MB Free Disk Space
SVGA Resolution Display
* Windows 10 users please note that your scanner hardware and drivers must be compatible with Win 10 for our software to work. to make sure simply download and make use of our 30 day trial and test with your scanner
Scanner with compatible drivers:
Twain drivers are recommended for all scanners
While WIA drivers may work with some flatbed scanners they are not recommended or supported for scanners with a document feeder. For more information on WIA drivers click here
The easiest way to check if your scanner in compatible is to download and use the free trial.
Download a Free Trial
Our software is free from viruses and spyware and the trial versions do not have annoying limitations or watermarks on output documents, they are exactly the same as the full version except they will stop working after 30 days.

FAQ
Q. Will this software work with my scanner?
A. It should work perfectly with all Twain compliant scanners and some WIA scanners (which is about 95% of all available scanniers) I would suggest that you download the free trial & check everything works to your expectation.
Q. What version of Adobe Reader (Acrobat) is needed to read documents produced by Scan to PDF ?
A. Adobe Reader V3 upwards
Q. Can I use my scanners document feeder and or duplex functions ?
A. Yes it works with all scanner functions provided you use Twain drivers.
Q. Can I email a PDF directly from your software ?
A. You can email without first saving the document by using the Preview function Click here for more details
Q. What is the best resolution to use for scanning PDF's ?
A. 200dpi (dots per inch) is fine for most documents but if you have very small print then 300dpi might be better. Any higher will slow scanning down and produce huge PDF files
Q. How do I get the smallest file size for my scanned PDF's ?
A. Scan in Black & White which will use G4 compression which will make the PDF's 5-10x smaller than grayscale or color. 1 page @ 200 dpi will typically be less than 30kb and 50kb at 300dpi
Please see our support section for more technical FAQ on Scan to PDF

Download a free 30 day trial version of our software
The easiest way to find out more is to download the trial, it only takes a minute to download and install and a few seconds to uninstall if you wish.