---
Double sided mode makes it easy to scan double sided documents if your scanner does not scan both sides automatically.
Put your document into the document feeder and scan the first side so you have pages 1,3,5,7,9... turn the originals over and scan the other side - pages 2,4,6,8,10...
Now the clever bit, right click on the thumbnail view and select reposition into a double sided document. ScanWiz will then arrange the pages for you into the correct order.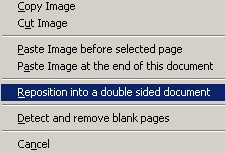 For this to work correctly the document must have an even number of pages so you must scan all pages front and back even if some of them are blank, you can always remove the blank pages automatically afterwards